Founded in 1996, Oak Pointe quickly established itself as a leading manufacturer of stair parts across the United States. Offering high-end product sourced from the finest timber in the US, lead times that far superior to overseas distributors and manufacturers, and an unmatched drive for innovation, Oak Pointe remains a top choice for professional home builders.
Stair Parts for Classical and Contemporary Building Styles
Oak Pointe manufactures stair parts and accessories from wood and steel, allowing their catalogue to fulfill almost any design need for any home. They have designs perfect for any modern home build, or for remodeling projects that require classic wooden stair parts and millwork to match the rest of the home's existing appearance.
In addition to their full catalogue of stair part designs, they are able to design custom products based on original designs and deliver them to spec. This versatility has made Oak Pointe a preferred supplier for professional builders and designers.
Kansas City Millwork prides itself on being able to deliver to our clients the best-in-class products for their builds and remodels, and so we made the decision to partner with Oak Pointe.
Their catalogue offers a variety of existing stair part and millwork designs, while also offering fully custom designs to meet the exact needs of any project. This ensures that our clients can get the stair parts they need, whether it's for a brand new build, or to remodel an existing stairway.
Oak Pointe Can Fabricate Every Stair Part Needed For a Project
From the starting steps, to the risers and landing treads, to the handrails with millwork designs to match the home, Oak Pointe is able to provide builders with every part needed to assemble a durable stair case that can withstand years of use and abuse for any home.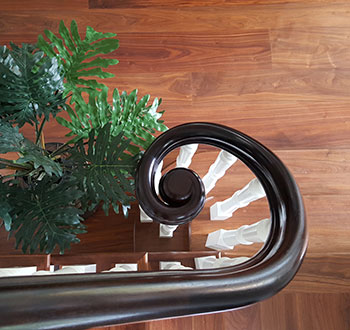 In addition to these stair parts, Oak Pointe offers a range of exterior and other millwork products, fabricated from wood, cellular PVC, stainless steel, and aluminum.
Supporting Professional Builders Through Projects From Start to Finish
From cost estimates, extensive CAD drawings that detail the whole stair system, and the ability to machine parts exactly to your design specs, Oak Pointe ensures that builders receive parts that are ready to go into place on delivery.
When combined with Kansas City Millwork's ability to support professional clients with orders for residential construction, extensive remodels, or commercial property projects, Oak Pointe is a reliable option for builders in search of stair parts of the highest quality.