ThermaTru is the most preferred entry door manufacturer by building professionals around the United States. From their beginnings in 1962, the company quickly established its reputation by providing entry door products that looked as beautiful as traditional wooden doors, while providing improved performance and security for a home. In addition to bringing the first fiberglass doors to market in 1983, ThermaTru has also expanded into steel door products.
ThermaTru Doors Promise Style Without Sacrificing Build Quality or Security
A properly treated wood door can last for years. But over time, the elements can take their toll on wood, causing it to warp or rot. That door that looked great ten years ago may suddenly require more in the way of maintenance, or even complete replacement.
ThermaTru's fiberglass doors look no different from those made from wood, can compete with steel for overall durability, and require far less maintenance as the years go by. For those looking for a steel entryway solution, ThermaTru also offers steel doors across a range of its product collections.
Each door collection provides a myriad of designs.
Regardless of your chosen material, each door collection provides a myriad of designs with and without glass, allowing builders to choose door styles that match the home they are building, without compromising security.
Partnering with Quality in Mind
Kansas City Millwork seeks only to provide the best products to our clients, many of whom are themselves professional builders responsible for residential development around the US. In order to better meet the exacting demands and specifications from builders today, we are proud to have partnered with ThermaTru to distribute its collections of premium entry doors.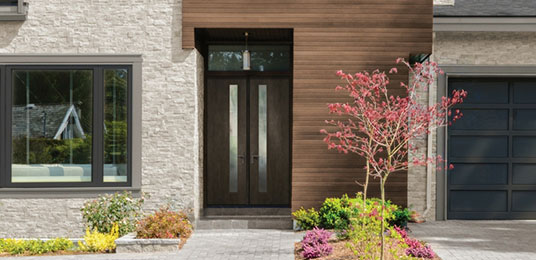 Continuing from their original Fiber-Classic doors offered in 1983, ThermaTru has developed a complete range of door collections to fulfill any builder requirements. Whether you need an impact-resistant fiberglass door, live in an area where you need to meet specific fire-ratings for all entry ways, or you simply want the best looking entryway to maximize curb appeal, ThermaTru offers what you need.
Decorative & Hardware Options
In addition to various styles offered in each collection, ThermaTru offers multiple decorative glass, stain and paint, and additional hardware options. Do you need a solid opaque entryway door, or do you want glazing on the door itself, and divided glass lites on either side of the doorway? No matter how simple or complex a doorway is for a builder, the ThermaTru catalogue as the solutions you are looking for.