House of Forgings
Stair Parts
House of Forgings is one of the largest manufacturers and distributors of ornamental wrought iron and wood stair parts in the United States. Their 75,000 sq. ft. distribution center in Houston, Texas allows House of Forgings to quickly get their products to any worksite in the country. In addition to their catalogues of existing designs, House of Forgings also allows clients to design fully custom stair designs through the Stair Artists design tool.
House of Forgings Can Provide Every Part Needed For a Complete Stairway
Kansas City Millwork is proud to partner with House of Forgings in our efforts to provide our clients with professional-grade stair part and accessory options. The quality and performance of their products, and the depth of their offerings, make them a perfect addition to the Kansas City Millwork line-up.
House of Forgings iron balusters come in 15 series, each available in a range of powder coated finishes and patinas.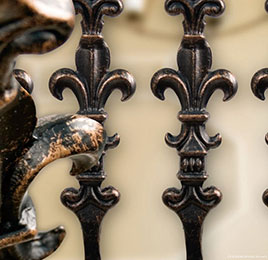 Iron panels help give an elegant and fully custom look. They can make up the entire railing, or you can mix into the railing system based on your design requirements.
House of Forgings flat and angled base shoes provide a finished look for iron wrought balusters, while also being able to hide gaps and other imperfections on wooden stairs.
Additionally, House of Forgings fabricates iron newels in a variety of styles, from including plain posts, decorative hand-hammered newels, and even more ornate designs to complement their iron balusters.
House of Forgings Has Partnered With Axia Stair & Railing Systems to Further Expand its Offerings
The AXIA Stair & Railing system allows professional builders to select complete stainless steel, cable railing, and glass stair parts systems in affordable packages.